In 2012, I designed and illustrated a mural for a new Bioscience building at James Madison University in Harrisonburg, VA, where I got my undergraduate degree in Biology. A former JMU professor of mine, Dr. Jon Monroe, contacted me because the department wanted a 3-story mural in the new building that accurately depicted a DNA molecule and complemented the lovely design of the building.
We started with a segment of plant DNA which I, as an undergraduate researcher in Dr. Monroe's lab, had helped to sequence.We then rendered the code as a 3D model using a program, UCSF Chimera. Using Adobe Illustrator, as well as my hand-drawings of many other organisms, I completed the large illustraton of a DNA molecule surrounded by bacteria, amphibians, birds, plants, and more. I sent the AI file to a Harrisonburg, VA printshop who printed the mural on polymer sheets and installed it.
The mural's three parts can be viewed as one image through the glass exterior walls of the building. It was an honor and joy to complete this project at my alma mater! JMU wrote about the project and interviewed me on their website.
Photos by Jon Monroe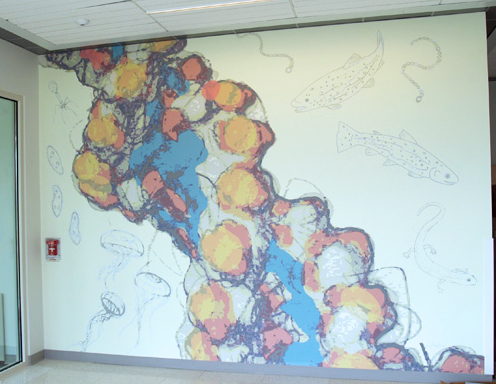 First floor

Exterior building view